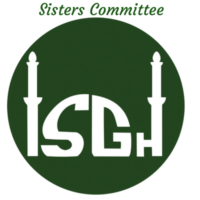 The Sisters Committee (SC) is dedicated to fostering a climate that welcomes sisters and other segments of our community to pursue an active role within masajid. SC's mission is to augment spiritual fellowship through engaging activities, invigorating classes, and wholesome social events. Through active leadership, SC aims to empower sisters and other marginalized community members and give voice to the growing and diverse population of Muslims. SC's mission statement is aligned with the Islamic Society of North America's Statement on the Inclusion of Women in Masajid.
Sisters Committee Goals for 2018
Continue offering more opportunities for sisters and other community members whose voices remain unheard to attend the masjid through activities, classes and events.
Provide a support group for divorced men and women and a support group for single mothers.
Ensure a safe, clean and adequate prayer area for women at each facility.

Checklist completion by each Associate Director with follow up.

Establish a local SC at each Islamic Center to increase female membership and leadership.

Outreach and enlist through Jummah and Sunday School meets.

Create more opportunities for partnerships with other organizations.
Develop a wider social media presence.