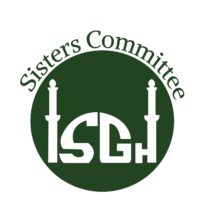 Our Mission is to revive spiritual fellowship in the Masjid.
Sister Committee 2019 Goals
 Develop an Atmosphere of Inclusion

Develop a comprehensive list of guidelines for leadership across the organization that highlight best practices of inclusion and diversity.

Walk-through checklist
Grievances
Volunteer Onboarding

(Eventual) Training Manual

Recommend qualified candidates to create more diverse teams at all levels of decision making.
Create an initiative to welcome congregants at Jummah in all masajid.

Quality Programming

Offer spiritually invigorating classes with engaging activities for the entire community to enjoy. For a list of our events, please see our Facebook page.

Community Support

Offer support groups where individuals with shared experiences come together to learn, connect and grow.
Life After Divorce  Bereavement Single Parent Tween Halaqa

Giving Back

Our strongest assets are committed volunteers and local organizations. We work to empower them by doing the following:

Provide scholarships to women toward their Islamic Education

Train volunteers invested in ISGH with necessary skills

Support the purchase of inclusive Muslim titles for the Harris County Public Library

Raise funds and awareness for worldwide humanitarian crises, such as the plight of the Rohingya and Uyghur Muslims.